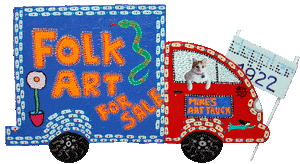 FOLK FEST

The North Atlanta Trade Center,

Atlanta, August 15-17, 2008

The North Atlanta Trade Center was bursting at the seams with folk art as the 15 year tradition that is Folk Fest brought folk artists and galleries of all persuasions together to show and sell their work. Nearly one hundred booths housed galleries, dealers, and artists. There were a lot of pieces by Jimmy Lee Sudduth for sale and works by Carl McKenzie, James Harold Jennings, and O.L. Samuels were in abundance. Quality was evident in many of the exhibitor booths with five galleries in particular standing out.


Lindsay Gallery had an estate collection that included many must-collect artists' work, with Duff Lindsay more than willing to share his extensive knowledge. Main Street Gallery showed self-taught art by many contemporary artists including Chris Clark, O.L. Samuels, and Bernice Sims. Mike's Art Truck presented pieces by Myrtice West and newer regional artists like Johnny Ace and Carol Roll. Gizzard Holler Folk Art from Kentucky displayed carvings and figures by Ronald Cooper and Minnie Atkins, both Kentuckians. Visionaries & Voices, from Ohio
offered a varied and interesting display of work by outsider artists with disabilities.


Several artists were on hand at the show opening. Chris Clark held court in jeweled top hat, cane on knee, offering a pair of 3-D glasses with the sale of one of his larger pieces to better appreciate the depth of his constructions. Mary Proctor talked about the importance of maintaining a positive outlook on life, and as an artistic missionary, her work carries messages about life lessons learned through her mother and grandmother.

Antonio Adams donned regal adornments before posing for a photograph as the Kingdom Master. Adams produces a variety of artwork ranging from drawings to statues and even worked on a painting during the show. Adams' pictures often include his image confronting the challenges in life with a quirky, positive energy. His androids lined the table, reflecting light through their plexiglass torsos. Meanwhile, Anthony Pack produces found object sculptures that reflect a good humoured take on popular culture and colourful carved wooden faces. His original figures combine kitchen tools, bent forks for arms, and food cans in an almost animated manner.
Linda Knopf

Reprinted from

Raw Vision #65

Winter 2008/2009

(emphasis added)

Questions about an item or an artist?...