Along the highways of central Florida, there are plenty of produce stands offering just-picked local crops. But the stand run by Ruby C. Williams is definitely unique. Ruby and her family farm the same land that has been in their family since slavery. Some years back while waiting for the next car to stop, Ruby began painting signs on scrap wood advertising the butterbeans, strawberries and other seasonal goodies that she had on hand. The painted signs soon became as popular as the produce. Ruby's bright paintings are rich with folk wisdom and observations of human behavior. Over the years she has developed many recurring characters and phrases. Her little produce stand/artist studio has become a colorful environment where the local community holds an annual celebration in her honor. Check out Ruby's website on folkvine: www.folkvine.org/ruby/home.html.  



Questions about an item or an artist?...ready to buy?...

CHOOSE AN ARTIST

FROM THE LIST

PIANO PLAYING COW

24" x 13"

acrylic on wood

SOLD

SOPHISCATED PERSON

24" x 13"

acrylic on wood

SOLD

SO SWEET BERRY

12.5" x 16.5"

acrylic on wood

SOLD

NIGHT CREEPER

30" x 10"

acrylic on wood

$150

I SING BEACAUSE I AM HAPPY

29" x 12"

acrylic on wood

SOLD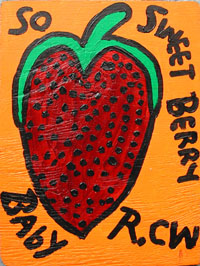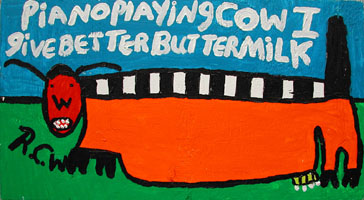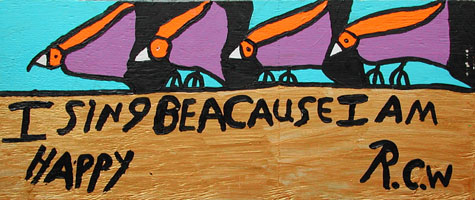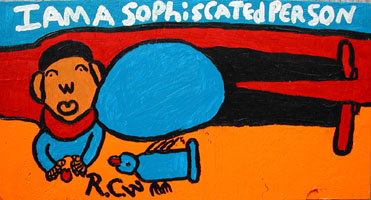 Ruby's art is featured on the cover of The Folk Art Messenger magazine, published by The Folk Art Society of America. Her produce stand/art gallery will be one of the tour stops for the group's annual conference.

CONGRATULATIONS RUBY!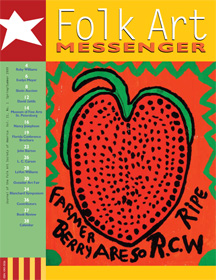 TO LEARN MORE ABOUT

THE FOLK ART SOCIETY OF AMERICA